Coach Taylor CrossFit Instructor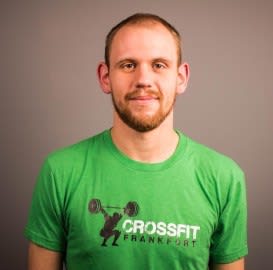 Coach Taylor
Born and raised in Frankfort KY, I grew up playing football, basketball, and soccer. I spent my middle and high school years in Boy Scouts camping, hiking, and caving. I've always had a love of the outdoors, whether that means being in a tent, or going down a well worn trail. I joined marching band in high school, and that helped me with a partial scholarship to the University of Louisville where I spent 2 years before leaving to pursue a degree in Fire Rescue Science Technology at Bluegrass Community and Technical College, where I graduated in 2009.
I was introduced to CrossFit when I applied for the Lexington Fire Department. I knew I needed to find a way to get into shape before I took the physical agility test required for job eligibility. I had been seeing CrossFit Frankfort's signs everyday when I left work, so I decided to give that a try. One month later I was not only able to pass the necessary physical test, I was one of the fastest ones to complete it. I quickly grew to enjoy the sense of community fostered in the box, and I loved the way I began to feel. By this point, I was sold on CrossFit's philosophy of Fitness and I wanted to keep getting better.
In the Spring of 2014 I was able to attend a USA Weightlifting coaching clinic in Lexington KY where I became a USAW Level 1 Sports Performance Coach. I quickly discovered how much I enjoyed coaching, but I was not quite ready to take the steps to attain my CrossFit Level 1. In march of 2015 I took the certification course, and obtained my CrossFit Level 1 Trainer certificate. I decided I wanted to help other people realize their goals, what ever they may be.
CrossFit Level 1 Trainer
USAW Level 1 Sports Performance Coach
CrossFit Judge